Accidentally Engaged
by
Farah Heron
My rating:
5 of 5 stars
Loved this one! (and loved the audio version too!)
This book is delicious. Well, not the actual book, but all the food mentioned had my mouth watering.
And the story was delightfully cute and funny. It's just the right combination of food and fun for a novel.
Premise:
Reena Manji hates her job. She'd rather be nurturing sourdough starters (that she's named) and cooking than doing finance. Not to mention entertaining her parents' meddling in her love life. Enter Nadim–an Indian Captain America with a British accent. Nice … until Reena finds out her father's arranged for them to be married.
What I loved:
I got a view of East African-Indian culture with this novel, and it made me appreciate how connected we all are, and we don't even realize it. The cultural descriptions and experiences were unique to these set of characters, so I didn't get that "this is how East Africans are" or "this is how Muslims are (or aren't in this case)" kind of feeling, but I was learning about a culture that I barely knew.
The cooking show contest scenes were AH-MAZ-ING! I am not really a fan of reality TV competitions, but I would totally watch this play out. All the purely fun and romantic stuff seems to come out in these scenes for me.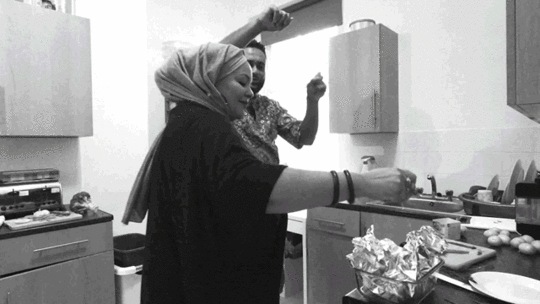 I also managed to get the audiobook, and I listened to part of it. The uplifting music, the narrators, it was an experience that made the words even more fun and cute! it was all wrapped up in this feel-good bow. Next is for this to be a Netflix movie.
What I sort of Liked:
The meddling parents that want to get her married already were hilarious! Especially near the end when family secrets are revealed. What I did not appreciate was the father's motivation for getting her together with Nadim. That made me so angry! (But I'm pretty sure I was supposed to be). I wish Reena would have been more angry, though.
The heat level. I didn't really research the heat level or even know what it was before reading. Sometimes I do because I specifically want a steamy romance. This one is sweet-steamy I guess is the best description. There's heavy making out on page and language, but the sex is closed door. I usually find that as a let down. Here, it works, because everything else is so sweet and fun and cute. Also, Heron has just enough of the steamy making out that you don't miss the unseen sex.
Overall:
This one was a deliciously wonderful read. Okay, beyond hungry right now. Gotta end this and eat something.
Did you like Accidentally Engaged? Agree with this review? Let me know in the comments.